About CatConcerns.com
CatConcerns.com is all about cats and cat owners. Conceived as a a blog containing all things cat, we're always trying to improve our content and bring you the very best the Web has to offer on our furry friends.
Guest Posts
At CatConcerns.com we're always on the lookout for new and exciting content to share with our readers. If you'd like to contribute or if you have a product you think we might be interested in reviewing, please get in touch using the contact form below. We'll be glad to hear from you.
Who's that little black cat?
That would be Andrew. We adopted this little guy back in November 2015 when one of the local cats who used to visit retired to the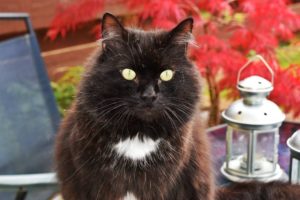 seaside. Andrew came with a ton of advice: "Don't look him in the eye. No sudden movements. Approach him side on". In truth when we stepped into his pen at the shelter it felt like an audition for a lion taming gig. And to be fair, the first thing he did was swipe at my outsretched hand and draw blood. You could tell the shelter lady feared the worst. You see, Andrew had been here 6 months and most of these visits had ended with a hearty punch from a little white-socked paw. The bloody hand didn't matter. We had to have him. A year later and he's the happiest most affectionate little cat you could imagine.
Contact Us
If you'd like to contact us for any reason please fill out the form below.