Of all the cat drinking fountains we've reviewed, the Petsafe Drinkwell Avalon Fountain is the clear leader. With a multitude of innovative features combined with a premium quality ceramic build, it screams quality.
The Drinkwell Avalon oxygenates your cat's water by ensuring that it's constantly flowing through the patented filter. As well as keeping the water fresh and oxygenated it also acts as a point of interest, encouraging your pet to interact with the unit and drink more. This is especially important in cats that eat a lot of dry food as it will prevent dehydration and urinary diseases.
Check the latest price for the Drinkwell Avalon Pet Fountain
Drinkwell Avalon – Description
There's a lot to recommend the Petsafe Drinkwell Avalon Fountain. The build quality is fantastic and the unit is made from ceramic which makes it very easy to clean. It also means the water remains cool while the constant flow reduces the chances of mildew and bacterial build up.
The unit features two separate drinking reservoirs one at the top and one at the bottom. This allows your cat to choose a stance that feels comfortable, and also allows small dogs to use the unit. The Drinkwell Avalon is circular which allows 360 degree access.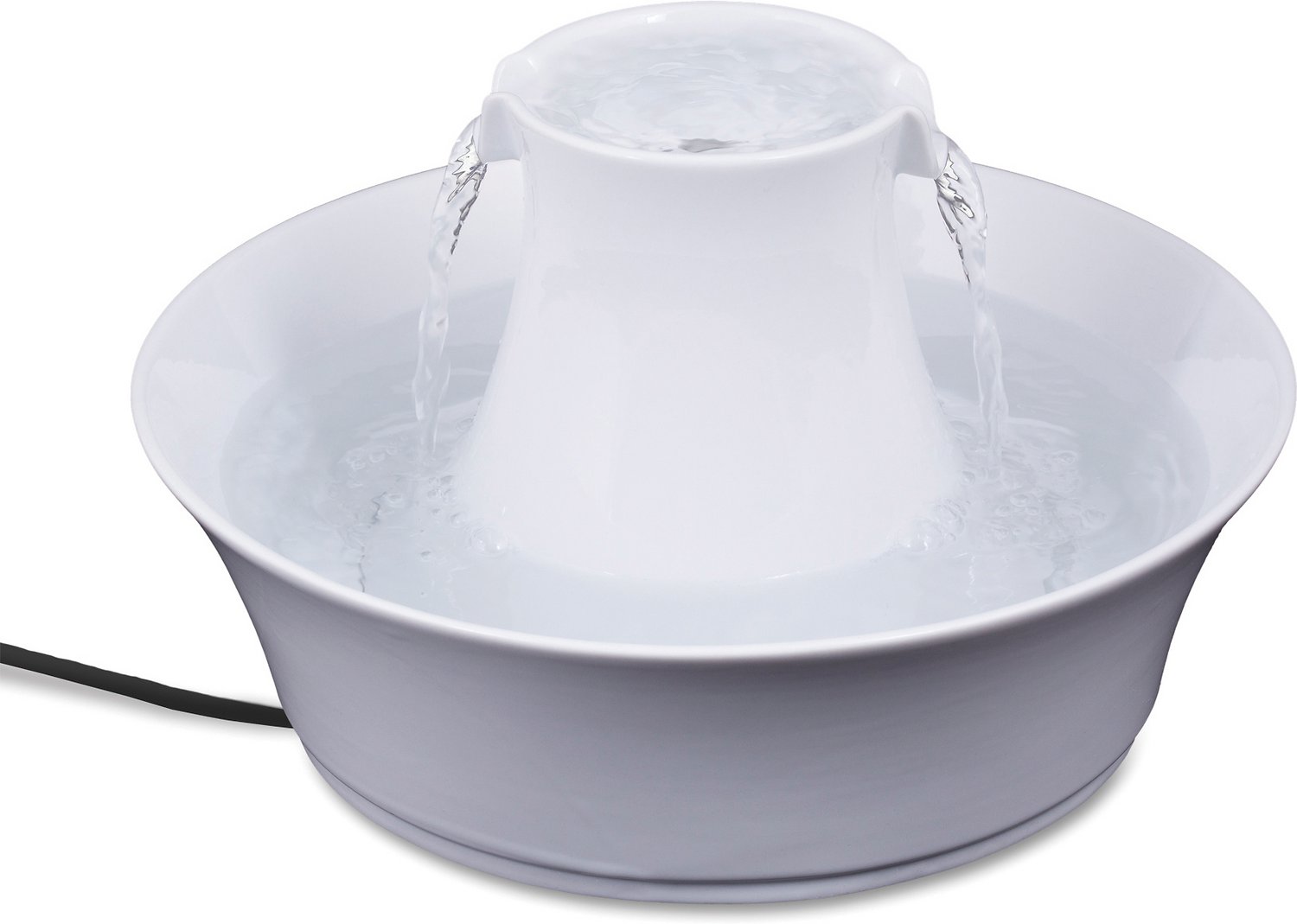 It's important that your pet's water is kept fresh and clean so the unit features a replaceable charcoal filter as well as a foam pre-filter. This keeps the water free from larger debris, but it also filters out any unpleasant aromas or tastes.
The fountain is a decent size, measuring up at 12.2 x 8.3 x12.2 inches meaning it's suitable for homes where space is at a premium. You can store it in corners or against walls. This means it's less likely to be toppled by an over-exuberant pet.
The unit is powered by a low voltage 12V transformer which is always desirable where water is concerned. The pump is submerged in the water which means this unit is much quieter than many of its competitors.
At 3.2 pounds this is on the heavy side for this type of fountain. The extra weight comes from the ceramic build material, whereas many other fountains use plastic, carbon polymer or some sort of molded resin construction.
A Look At The Petsafe Drinkwell Avalon In Action
Conclusion
It can be difficult to know exactly how a cat drinking fountain will work out for you. There are a multitude of different factors involved and your cat is the only one that's privy to most of them.
Andrew is already used to drinking from a faucet so it seemed a natural fit for him to use the Drinkwell Avalon. That expectation was confirmed when he started using it without too much prompting. At first he found it somewhat of a curiosity but he soon adjusted to the sound of the flowing water and he quickly became fascinated. It took a little time to convince him to drink from it as he hadn't been used to a fountain of any kind. Once he got over his initial reservations I actually found that he drank more than he usually did from his old bowl.
Features
Stylish ceramic design is easy to clean and looks great

Free running water oxygenates the water, keeping it fresh

Two distinct drinking bowls: upper and lower

Submersible pump uses a low voltage 12V supply and is both safe and quiet

Ideal for all cats and smaller dog breeds

Has a capacity of 70 ounces

With the exception of the pump, is dishwasher safe

Premium ceramic material

Foam filters keep water fresh and free from debris
Pros and Cons of the Avalon Water Fountain
Pros
Highly durable due to ceramic build material

Assembly and disassembly is relatively simple

Light enough to pick up and clean in the sink if necessary

Charcoal filters were easy to replace

Foam filter does a good job of eliminating larger debris

There aren't too many hard to clean areas

Ergonomic design means no hard edges or sharp corner

Can be cleaned in the dishwasher

Circular design makes it ideal for more than one pet

Pump is very quiet

Power cord is detachable, not molded

Ceramic material prevents mildew, slime and deposits
Cons
70 ounce capacity is comparatively small

No reserve water container

Constantly running water may not be suitable for all cats

Ceramic material is good quality, but would break if dropped on a hard surface

Filters require monthly changes
Quick Tips
A protective mat will help to keep your floor dry and minimize any noise from the pump

You should always maintain water levels at full capacity. Running the pump at low water levels can damage it and lead to additional noise.
Recommended if:
You have multiple pets and limited space

Your pets are not frightened of running water

You are able to clean the unit on a semi-regular basis
Verdict
The Petsafe Drinkwell Avalon Fountain is a great example of a simple idea done properly. The unit performed consistently well and was very reliable over a sustained period. Although my cat had some initial reservations over the running water he quickly overcame these and I think the low noise of the water pump was vital in this.
It's slightly more expensive than other units but the combination of build quality, looks and durability mean that I'd highly recommend this fountain to anyone.
Our Rating: 4.7 out of 5 Stars