For cat owners, finding the best cat water fountain can be a tricky business. Due to the sheer number of different makes and models the choice can seem overwhelming. Here we've summarized everything you need to know about the Drinkwell Pagoda Ceramic fountain.
Check the latest price for the Drinkwell Pagoda Ceramic Pet Fountain
Drinkwell Pagoda Ceramic – Description
The first thing you'll notice about the Drinkwell Pagoda Ceramic fountain is its striking design. The clean white (or red) ceramic construction immediately catches the eye and suggests a quality product.
At 70 ounces the capacity is a little less than some comparable pet fountains. But what it loses in capacity it makes up for in style. Not everyone is happy to have an ugly plastic water fountain in the corner of their room, and this unit definitely has a sterile almost medical appearance.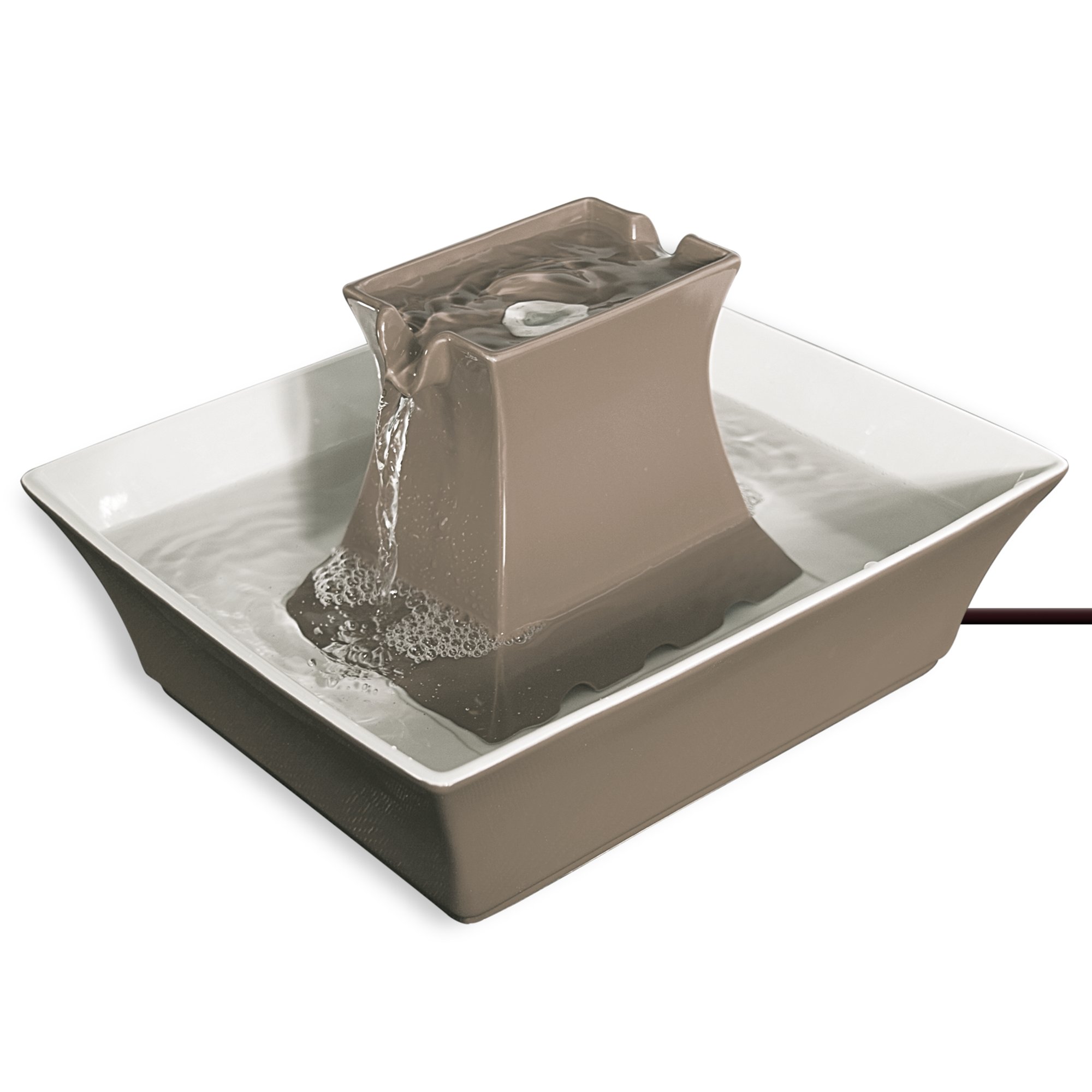 So how does it work? The unit is shaped like a traditional fountain with a central column from which the water flows and a pool around the base. This provides two different drinking areas which makes this ideal for small dogs as well as cats. The upper area is just the right height for a dog the size of a Jack Russell for example.
The unit is 10.6 x 12.2 x 8.4 inches in size which puts it bang in the middle ground for this type of device. It's rectangular and therefore very easy to place in a corner or against a wall where your cat will feel safe while drinking. You can detach the cord from the unit which is a very handy feature if your power outlet is behind a couch or kitchen appliance.
The Drinkwell Pagoda features a dual filtration system. A plastic filter prevents larger fragments of debris from entering the pump and causing damage. The charcoal filters prevent the water from acquiring unpleasant odors or tastes due to microscopic contaminents,
Features
Large 70 ounce capacity

Charcoal filters remove unpleasant tastes and odors

Pre-filter protects the pump by removing large debris

Made from porcelain which makes it easy to clean

PetSafe's patented stream technology aerates the water

Upper and lower reservoirs for larger or smaller cats

Dishwasher safe parts

Includes one charcoal filter to initially setup the unit

It uses a low-voltage 12V system

Pump is submersible which results in less noise

Dimensions: 10.6 x 12.2 x 8.4

Weight: 3.2 pounds
Pros
Refilling is very easy

The submersible pump has a quiet motor

Easy to assemble following the directions.

Ceramic material is very easy to clean

Charcoal filters remove unpleasant tastes and odors

Filter changes are a piece of cake

Mildew and slime doesn't build up like it does with plastic fountains

Pump is easy to remove and clean

Two streams, so two cats can use at the same time

Very attractive design

Heavy, so not easily toppled by naughty cats

Tested and safety approved

Produces a pleasant sound of running water

Detachable cord makes it easy to clean and refill

Suitable for cats with plastic allergies
Cons
The pump motor is quiet but the stream can be noisy, especially when the unit is running low on water

The water might flow a bit too aggressively for some cats

Capacity is good but less than other fountains.

Motor is not adjustable

The porcelain body is dishwasher safe but the instructions recommend hand-washing

Charcoal filter lifespan is only 2-4 weeks

Plastic pre-filter lifespan is only 4-8 weeks

Bottom reservoir may be a little small for some larger cats to comfortably drink from

No reserve water supply

Ceramic, so vulnerable to chipping or breakage

A little expensive
A Look At The Drinkwell Pagoda Ceramic In Action
Hints and Tips
If you find the sound of running water pleasant, don't fill the unit up completely. This increase the distance that the stream has to travel creating more of a "babbling brook" sound

If this noise is irritating you should keep the fountain fully stocked. You can also dull this sound by submerging a small dish where the stream enters the reservoir

If you regularly deep clean the unit you will increase the lifespan of the filters

It is a good idea to use filtered water for a better performance of the fountain.

Keep your cat interested in the fountain by alternating when it's switched on. If you have a curious cat they'll be attracted to it when it's on.
Conclusion
It can feel like you're feeling around in the dark when it comes to cat drinking fountains. It's simply not possible to know if your little furry buddy is going to accept it or not. But you can make an informed choice based on the experience of others.
My cat Andrew is very much a faucet drinker so he wasn't put off by the streams. He's also been exposed to some of these units before so there was less of a novelty factor than before. However novelty is something that can work for or against you. Skittish cats will not take kindly to this strange new thing that's just appeared without warning. Conversely, bold and curious cats will be very interested indeed.
Andrew took to the Drinkwell Pagoda well. He doesn't drink a lot but his intake is always increased when we use any drinking fountain and this one was no different. The flow rate here isn't adjustable so I made sure the unit was full to avoid splashing that might scare him off.
It got the general seal of approval from Andrew but you should be aware of a few things. You will need to change the filters regularly and the manufacturer recommends regular deep-cleaning. Fortunately this is fairly easy to do. You should also note that while this unit is dishwasher friendly, the manufacturer recommends that you hand clean this. It isn't exactly clear why, but my suspicion would be that hand cleaning is always more thorough.
The noise from the pump motor is not bad at all and you'll barely notice it. This is because the sound from the water streams tends to dominate. This will suit some people while sending others heading for the bathroom. A full reservoir reduces many of the splashing sounds.
One feature that you don't always see is a detachable cord. This proved surprisingly useful as it allowed me to unplug the unit and take it for cleaning without wrestling with the extension it was plugged into. If you're like me you like to keep your electrical cabling concealed, so the ability to unplug this fountain without disturbing your cable ties is great. It also means that you can purchase replacement cords.
I'd recommend this cat water fountain for pets who habitually lick water from a faucet or tap. If your cat is already used to running water then they'll have no problems adjusting to this. If your cat is a little more nervous it may take more time. The Drinkwell Pagoda is less noisy than some of its rivals so your chances of success are greater than with some mountains.