ScoopFree Ultra – Automatic Self-Cleaning Litter Box
Once again we have a device that claims to free us from the unpleasantness of scooping litter. The ScoopFree Ultra improves on the original model by introducing a number of new features, including a privacy hood. But how does the ScoopFree Ultra fair when put through its paces? Read on…
How Does It Work?
In many respects the ScoopFree Ultra looks much like a regular litter box. Look a little closer though and you'll see that the entire bottom of the unit is composed of a detachable and disposable litter tray filled with a special blue, crystalline cat litter.
When the litter tray needs to be changed you simply slide it out and insert a new one. This is an excellent way to minimize your contact with the nasty stuff. The litter itself does a good job of absorbing urine and reducing odor and is a non-clumping variety so there's no need to rake and level after each use.
Like many units of this type, the ScoopFree Ultra makes use of a weight sensor that detects when the cat has entered the litter box. Once your cat exits the box the cleaning cycle kicks in. If there's only urine the litter will be raked and levelled ready for the next use. The crystal litter is not a clumping variety and can last for many weeks before the tray must be changed.
If there's poop in the box the rake will move the waste into the waste trap at the front of the unit where more crystalline litter will help to absorb moisture and reduce odor. The ScoopFree Ultra's rake is not prone to jamming because of the way it changes orientation as it moves.
Features: What Can It Do?
Automatic self-cleaning litter box.

Crystalline litter reduces odor.

Raking system is reliable and not prone to jamming

Privacy hood is ideal for shy cats,

Adjustable cleaning cycle delay can be 5, 10 or 20 mins

Disposable litter trays make cleaning easy

Long power cord

90-day-money-back guarantee (free shipping cost)

One year replacement warranty (free shipping cost)
Handy Hints
The disposable litter trays can be made to last longer if you give it a rake once per day to redistribute the litter. This is especially true if your cat tends to go in one spot.

Silica-based litter will last longer when moisture is allowed to evaporate. Litter trays will last longer if placed next to a well ventilated space.

If your cat is suspicious of new things, try sprinkling some new litter on top of the old litter for a few days before you switch it out for the ScoopFree Ultra.

There are various products that can help reduce odor:

Baking powder can help reduce strong odor. Sprinkle it in the waste compartment.

An activated

charcoal odor absorber

can also help. You should place it inside the waste compartment.

A

Febreze Hamilton Air Filter

plugged in next to the unit will effectively remove odors.
Pros
Next to no set up

Rake mechanism doesn't jam.

Crystalline litter

Blue crystals aren't as messy as clumping litter.

Customizable timer (5,10 or 20 minutes)

Usage counter

Enclosed hood for shy cats.

More or less maintenance free

Crystalline litter means no scraping

Easy disposal of old litter

The unit can go on its own for weeks if used with one cat and following the instructions.

Cleaning cycle is only 1 minute

10 foot cord
Cons
Requires special manufacturer's litter trays

Occasionally some waste might get caught behind the rake or on the rake.

Motion sensors may become blocked if your cat has a tendency to dig

Waste compartment is not fully sealed.

Some manual stirring required to get full use of litter.

Crystalline litter may be a problem for some cats

Magnetic latch on waste cover isn't particularly strong.
The Conclusion
The ScoopFree Ultra is a very reliable and fairly maintenance-free piece of kit. It's one of the best examples of this type of box with an excellent raking mechanism. It does require you to keep an eye on it from time to time though, and you'll definitely want to rake the litter periodically to get the most out of each tray.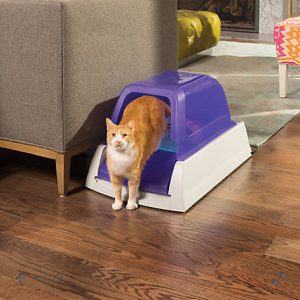 Andrew was a little hesitant to use the new litter at first but that didn't last long and he was fine with it after a few uses. The unit was generally good at preventing odor and the disposable trays were very easy to remove and replace.
The trays themselves lasted around 3 weeks although this will definitely vary from cat to cat. It would be well worth it to place this unit in a dry area away from sources of steam or other moisture as this will reduce the lifespan of the litter trays.
ScoopFree Ultra Hacks – Alternatives to Disposable Litter Trays
Many people will be happy to just buy the disposable trays and use the product as the manufacturer intended. For the majority of single cat households this will work fine. However, if you have multiple cats this could quickly become an expensive device to use. It's therefore worth looking at alternative methods suggested by ScoopFree Ultra users.
Using the ScoopFree Ultra with the Forever Tray
A very good alternative to the disposable cardboard trays is the Forever Tray. This is made from hardened plastic and fits snuggly onto the bottom of the unit. Once installed you can fill the Forever Tray with a good brand of crystal cat litter. In order for the unit to function normally you will need to select a brand of crystal litter that most closely matches the grain size of the original disposable trays.
Some users have also had success with good quality clumping cat litter such as <brands>. Bear in mind though that you'll then need to scrape the floor of the tray to remove clumps.
When washing the Forever Tray be sure to dry it thoroughly before filling with crystal litter. Any moisture still present in the tray will be absorbed by the litter making it less effective.
Using the ScoopFree Ultra with the Litter Bagger
The Litter Bagger is a wooden frame with a bag suspended under an opening. When the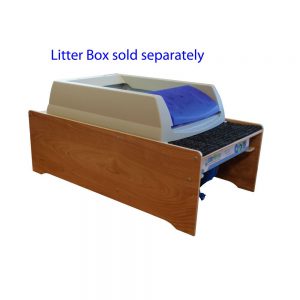 ScoopFree Ultra rakes clumps of waste they fall into the bag at the front of the unit. When the litter needs changed simply scoop it into the bag through the opening and into the bag.
Product Details
Self-cleaning and can last for weeks

Waste is raked into a closed compartment to reduce odor

Senses when a cat re-enters box

Disposable litter trays are leak-proof

Silica litter is five times better at absorbing urine than conventional litter

Uses 5-10 times less litter than conventional boxes

Included hood for shy cats

Counter for how often your cat uses the box

Lab tested for 100,000+ cycles without failure or jamming

For cats of any size

For indoor use only
What's In The Box?
Litter box with rake and waste trap lid

UL-rated AC adaptor with 10-foot cord

Litter tray with cover and bag of premium blue crystal litter

Privacy hood

Product manual
Product Links
Average User Rating: 76%