PetZone Smart Scoop – Automatic Self-Cleaning Litter Box
The PetZone Smart Scoop is another option in the competitive self-cleaning litter box product niche. It may not look as impressive as some of the other units we've reviewed but looks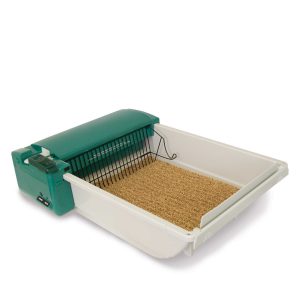 can be deceptive. It's the latest generation of the product from PetZone who have a proven track-record of quality. So how did it perform?
How Does It Work?
The Smart Scoop has a fairly conventional design compared to other products in the market. Essentially it's a regular plastic litter tray with an added raking mechanism and a waste drawer.
The unit detects when your cat has used and exited the box before a 15 minute timer kicks in. Once the timer expires the cleaning cycle begins. This consists of a metal rake which gathers all solid waste and litter clumps into the waste drawer. If your cat re-enters the box within the 15 minute period the timer will reset for another 15 minutes.
The rake allows clean litter to pass through resulting in lower overall litter usage. The motor is surprisingly powerful and noticeably quieter than other units of this type.
Features: What Can It Do?
Quiet cleaning cycle

Powerful electric motor

Efficient with cat litter

Deflector helps keep litter contained

Unit can be take apart for easy cleaning

No special supplies required, uses ordinary clumping litter

Utilizes carbon filters to reduce odor
Pros
Easy assembly

Quiet operation

Easy to clean

Uses any clumping cat litter

Uses ordinary plastic bags

Preserves clean litter

Easy disposal of dirty litter

High walled design keeps litter inside the box

Large litter tray suitable for multiple cats or large breeds

Conventional design so adopted easily by cats
Cons
Clumps will occasionally go up the corners and fall on the floor

The rake doesn't always remove urine clumps stuck to the bottom of the pan

When your cat uses the same area the corresponding part of the waste tray can fill up quickly

Needs occasional litter top ups

Short electrical cord.

Short life of carbon filters

Litter can sometimes pile up requiring manual leveling
Handy Hints
If any waste catches on the rake, let it dry and it'll flake off easier

Use a good quality clumping cat litter with this unit

The electrical cord is short so you may need an extension cord
The Conclusion
The Smart Scoop is a decent unit that more or less does what it claims to. In most circumstances the rake functions perfectly and waste is disposed of into the waste drawer. That said it isn't perfect. There are occasions when clumps build up and they can sometimes spill out onto the floor. This isn't a regular occurrence but it's worth pointing out.
The tray doesn't use a lot of litter so after a few cleaning cycles you may find yourself having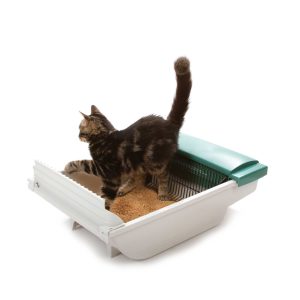 to add additional litter. The waste drawer isn't a sealed unit so there's a potential odor issue although the carbon filters do a decent job of keeping this to a minimum.
You'll need a fairly large space in which to place the unit and you will probably need an electrical extension cord as attached one is only around 3ft long.
All in all it's a decent package at a very reasonable price.
Product Details
Litter Pan Area: 16″ L X 14″ W

Product Dimensions: 25.5" L x 18.25" W x 7.6" H

Item weight: 9.3 pounds
What's in the box?
1 Smart Scoop Automatic Litterbox

1 odor-absorbing carbon zeolite filter

6 no-touch waste bags

One-year warranty
Average User Rating: 62%