Getting your cat to drink enough can be a tricky business but a vital one. It's essential that they drink enough, especially when they're on a dry food diet. These cat fountains could be the answer you've been looking for. So what do we have? Step forward the Drinkwell Multi-Tier Pet Fountain.
Check the latest price for the Drinkwell Multi-Tier Pet Fountain here
Drinkwell Multi-Tier – Description
The Drinkwell Multi-Tier Pet Fountain is yet another design from PetSafe. They've made quite a habit of producing attractive, feature-rich pet fountains as well as a variety of other accessories. With so many to choose from you might think they'd run out of ideas but this one stacks up favorably to the competition.
First of all "multi-tier". What exactly do they mean? Well, multi-tier is in fact two tier. That's to say the fountain features two drinking reservoirs. One up high and one below. Water flows from the top one into the bottom. It's an interesting design that allows more than one pet to use the unit at a time. I can see it fitting ideally into a home that features a small dog as well as a cat.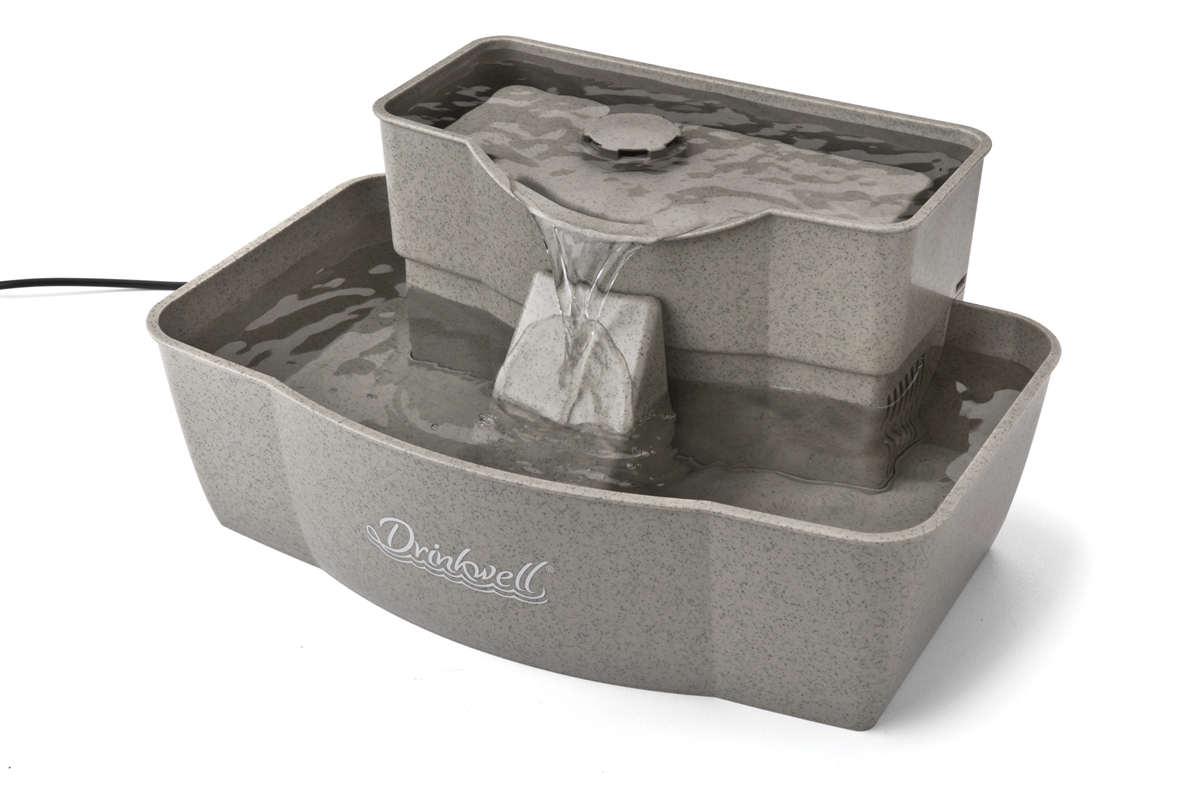 The Drinkwell Multi-Tier Pet Fountain is a solidly built piece of equipment. The build material is a sturdy and durable plastic which makes it both easy to clean and resilient if dropped. The downside is that it really isn't as attractive as other PetSafe fountains such as the Pagoda.
At 100 ounces the capacity is great and means there's no need for a back up reservoir. You won't find yourself having to top this up too often and your cat will always have plenty of water to drink.
So how does it work? The unit has a roughly rectangular shape with a main drinking basin at the bottom. There's a second drinking tier sitting within the base and water flows from top to bottom ensuring water is always fresh and oxygenated. To prevent excessive splashing there's an angled board under the water flow which dissipates the force of the flow into the bottom reservoir.
At 8.5 x 11.9 x 5.9 inches the Drinkwell Multi-Tier is quite a neat unit. It's compact size is great especially when you consider the large capacity. It fits nicely against walls or in corners. The size makes this ideal for small dogs as well as cats. The upper area is just the right height for a dog the size of a Jack Russell for example.
The features optional carbon filters. We recommend that you use the filters, especially in areas with hard water. They'll filter out contaminants and keep the water fresh and free from strange odors or flavors that can be off-putting for your cat. It's also built from sturdy BPA-free plastic so is great for cats with plastic allergies.
Features
Free-falling stream adds more oxygen for freshness, encouraging pets to drink more water.

Elevated drinking dish for easy access, perfect for senior or arthritic pets.

Receiving ramp reduces splash and sound of falling water.

Replaceable activated carbon filter removes bad tastes and odors for fresher, better-tasting water.

Submersible pump for safe and quiet operation.

Low-voltage, 12V system with inline plug for safe operation and easy pump removal.

Low power consumption, only pennies a day!

BPA-Free plastic is dishwasher safe (excluding pump) for easy cleaning
Pros
Large 100 ounce capacity

Charcoal filters remove unpleasant tastes and odors

Multi-level fountain offering a variety of drinking positions for small to medium sized pets

Easy set up and maintenance

Upper drinking area is better for older cats to drink from

Very easy to disassemble

The submersible pump is easy to disassemble and clean

A very quiet unit with only a light trickling noise

Dishwasher safe parts

It's easy to change the filters

Refilling is very easy

It's easy to insert the carbon filters

Includes a one year warranty

Low power consumption

Cord has an inline plug so can be easily detached for refilling

Very stable. Your cat won't knock this over easily.

Includes one charcoal filter to initially setup the unit

It uses a low-voltage 12V system

Pump is submersible which results in less noise

Dimensions:

8.5 x 11.9 x 5.9 inches

Weight: 2.2 pounds
Cons
The pump motor is quiet but the stream can be noisy, especially when the unit is running low on water

Like most fountains it requires regular cleaning

Plastic construction is less hygienic than some other materials

Comes in one color only

Bottom reservoir may be a little awkward for large cats to drink from without being splashed

Difficult to clean by hand. Unit is easier to wash in a dishwasher.

Ceramic, so vulnerable to chipping or breakage

Difficult to carry when it's full of water

Filters are expensive to replace

Difficult to assemble and disassemble if you're not dextrous

Dust and hair tends to accumulate in the bottom reservoir
Hints and Tips
Be sure to install the filter the correct way round. The black part faces the pump while the tall side should face the back of the tray

Keep the unit full so that the pump operates properly

Make sure you change the filter every 2 to 4 weeks

You should give the fountain a deep clean every 2 weeks

To regulate the hours that the pump is running you could use a timer unit such as the

Belkin Conserve Socket Outlet

You can eliminate the unit's humming noise by removing the filter. However we don't recommend this if you have hard water or a pet with long hair. If you want a quieter unit the Hagen Catit Fountain circulates water without a stream.

Keep your cat interested in the fountain by alternating when it's switched on. If you have a curious cat they'll be attracted to it when it's on.
Conclusion
You could be forgiven for thinking that all cat fountains are alike and there's certainly an overlap when it comes to features and functionality. Ultimately the fountain you choose will be down to your individual needs.
My cat Andrew was ok with this unit. There's nothing too off-putting about it and he found the water flow perfect to drink from. He's fairly used to these fountains by now but the water flow isn't violent and should be gentle enough for all but the most skittish of cats.
There is certainly a lack of features on this fountain compared to many others we've looked at. It's missing a timer for example which may be an issue for some people. The build quality is also inferior to other units we've tested and it's awkward to disassemble. It's certainly very awkward to clean and this is something you may wish to bear in mind.
The plastic construction isn't as aesthetically pleasing as many other fountains on the market. It certainly wins no beauty contests. But if you're looking for a good basic fountain on a budget this would certainly fit the bill